Have you ever wondered what the best day to buy jewelry online is? The general perception is jewelry, a luxury item, does not have a significant price fluctuation tendency. However, we beg to differ, and our analysis reveals that prices do fluctuate in this category.
If you are price savvy and have researched the best jewelry prices online, you most definitely want to check out the data trends that GrowByData Analytics identified on which day the price fluctuates the most.
Monday is the best time while Wednesday is unfavorable.
To begin, we researched the price trends of some of the leading jewelry retailers in the industry. As such, we've uncovered two major findings – the day of the week with the greatest number of price changes and price change ratio (i.e. raised or lowered prices for each day of the week) to help you make an informed decision as a consumer. For retailers, the data will be beneficial to understand and analyze the market trends to apply to business and marketing strategies.
Our analysis reveals Monday is the most price-competitive day of the week with the greatest number of price changes in the jewelry industry with 22% of total price changes recorded. In contrast, the weekend days – Saturdays and Sundays were the least competitive days of the week with about 10% price changes recorded for each.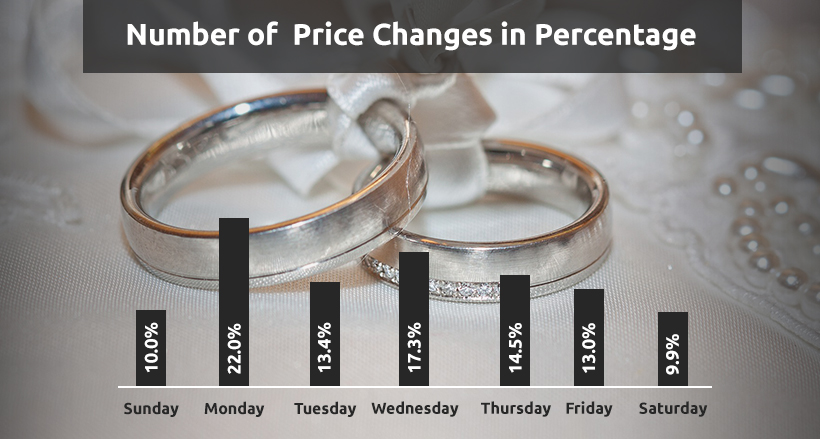 So, is Monday the Best Day to Buy Jewelry?
Despite Monday being the most competitive day based on the number of price changes to buy jewelry, you may wonder whether sellers are raising or lowering prices on that day? Alternately, are sellers offering discounts or lowering prices more on other days of the week?
Let's Find Out!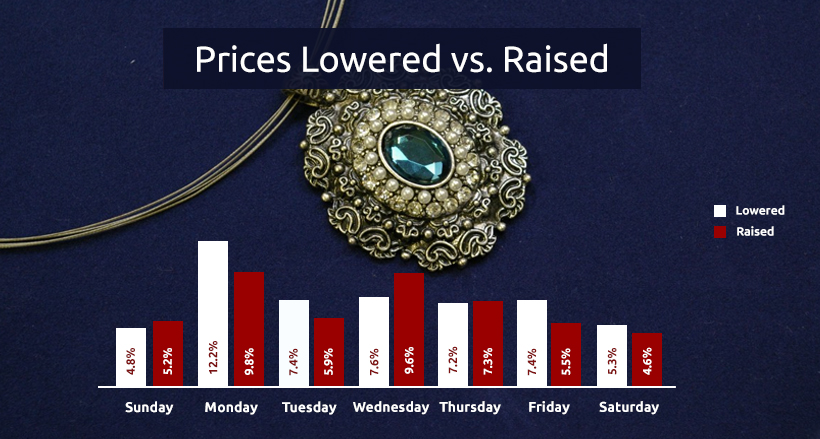 Our data analytics reveals that the price change activity that occurred on Mondays showed prices being lowered more often than raised. Of the total number of price changes recorded on Mondays, 12.2% had sellers lowering prices in comparison to 9.8% being raised. In contrast, on Wednesdays, Thursdays, and Sundays, prices were raised more than being lowered. It is also interesting to note that sellers lowered the prices 52% of the time as compared to raising 48% of the time.
If you plan to buy a piece of Jewelry, Monday is the best time while Wednesday is unfavorable. If you are looking for offers or discounts, target Monday since prices are most volatile in addition to retailers lowering prices the most on this day.