Google showcase ads are another form of shopping ad that appears at the top of the search result list for broad and non-branded keywords. When it comes to setting up these ads, you have the option of creating group-related products and showing them to searchers using broader terms (i.e., "hoodies" or "guitar"). These ads are often used for brand advertising and target keywords at the top of the search funnel.
In general, customers search for generic terms during the first stage of the buying process. For example, customers who want to buy a shoe during the winter will most often search for a generic term such as "winter shoes". During this stage, having showcase ads can benefit you, the seller, as they allow you to create an advertisement that showcases your brand. When the searcher clicks on the ad, your winter shoe catalog is displayed in a pop-up window. The showcase ad gives you the opportunity to introduce your products to potential customers.
In 2016, showcase ads accounted for 70% of non-branded paid clicks on Google.
If searchers decide to look for a more specific search term, such as "Nike Winter Shoes for Men" it's still possible that your Google Ad could receive more clicks, as the customer may have already noticed your showcase ad during their initial product search.
A showcase ad targets customers in the research phase before they have made a buying decision. Google charges for these ads based on Cost Per Engagement. That means that you are charged only when users click on your ads and engage with the related catalogs that are displayed in the pop-up window for at least 10 seconds or if they click on any product to get to your website page. This charging mechanism makes it the best adoption when targeting customers using generic search terms, followed by product ads that use long-tail keywords where customer buying intent has become more focused. Due to pricing and the ability to target buyers early, showcase ads are becoming more popular. Since its launch in 2017, Google has expanded showcase ads to more countries. In 2016, showcase ads accounted for 70% of non-branded paid clicks on Google.
Small to big brands are competing for broader and generic search terms to acquire more visitors to their website.
As showcase ads become more popular, the competition to appear in these ads has also increased. E-commerce advertisers from small to big brands are competing for broader and generic search terms to acquire more visitors to their website. This competition has led to ad optimization becoming difficult, and the performance and feedback data provided by Google is inadequate, allowing advertisers to take a defensive approach more often, which includes filling campaigns with negative keywords. The underperformance of important search terms is also largely impacted by your company's position in the ad carousel, brands competing with you, and their ad content, along with advertisement availability in different customer locations/regions and time/hours in a day. Having this information is beneficial and can help you better optimize your showcase ads and make key decisions in the optimization process.
At GrowByData, we have been collecting data for 287 keywords for beauty products for the last three months. The combined monthly search volume of these keywords, per the Google keyword planner, is approximately 36 million. A total of 190 distinct advertisers was detected during this period. The data were collected from four different regions of the United States, three times a day at the seventh, eleventh and fifteenth hours. Below are the insights from our data collection.
1) Most Competitive Region and Hour
The data in the following graph shows that the U.S. West (N. California) region is the most competitive region in the seventh hour with 71% of advertisers competing, followed by 66% of advertisers from the U.S. East (N. Virginia) competing during the fifteenth hour. The data show that the U.S. West (Oregon) region is the least competitive region.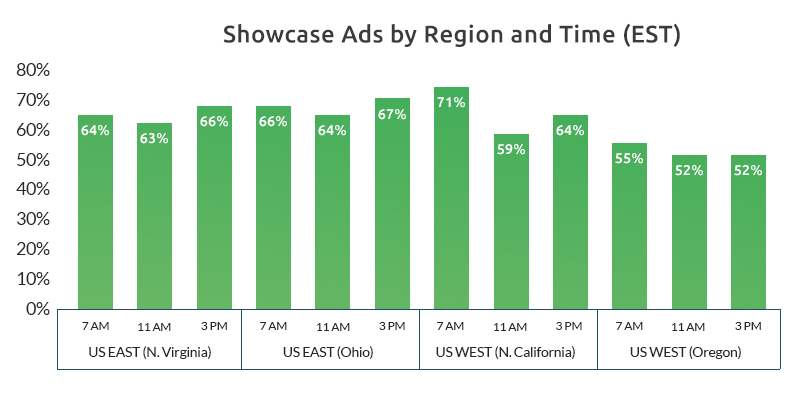 2) Top 10 Advertisers based on Keyword Competency
Sephora is the most viewed advertiser, with showcase ads seen for 98% of the keywords, followed by Walmart and Ulta Beauty (with 92% and 76% respectively).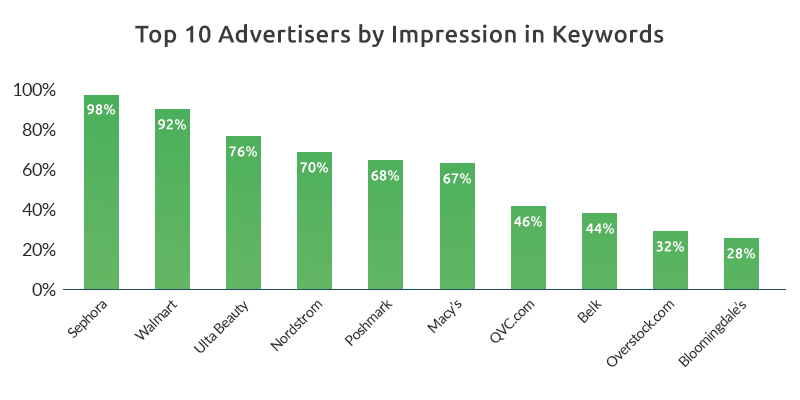 3) Top 10 Advertisers with First Ad Position
The graph below shows the top 10 advertisers with the most percentage of first-position listings in the ad carousel. Sephora again tops the list, occupying the first ad position for 93% of the keywords, followed by Nordstrom with 48% and QVC.com with 38%.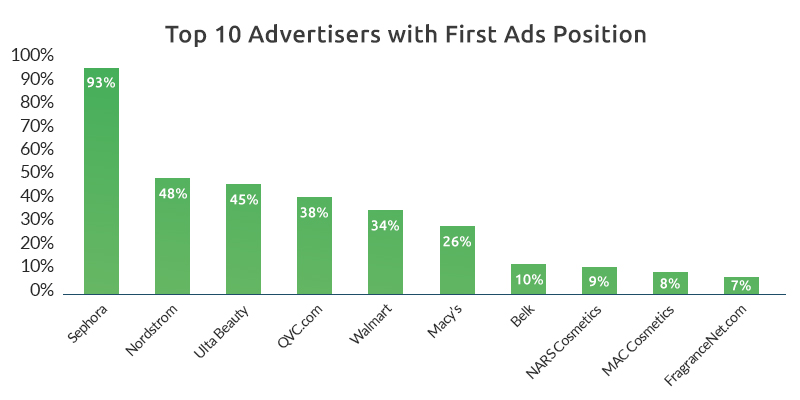 4) Top 10 Keywords
The graph below shows the top keywords based on the number of advertisers competing for them. The keywords "IT Cosmetics Foundation" and "Chapstick Brands" are the most competitive on the list and had 26% of advertisers competing for them. Google accounted for a 1.45 million monthly search volume for these top 10 keywords.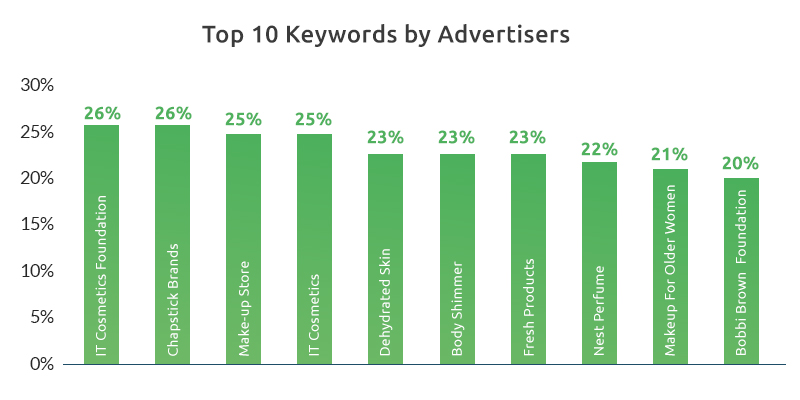 Conclusion
Ad optimization is becoming more difficult these days due to e-commerce advertisers of all brand sizes competing to increase site traffic. So, it is even more important now to do an analysis of geo/region competency, your ads competitors, the ad position of your product, and your top competitors. Along with these, you should also do analysis on keywords competition and opportunity analysis as well in order to make better decisions in the ad optimization process.