Jewelry is timeless. Everyone wants to own a piece of jewelry in their lifetime. World's famous Investor Warren Buffet once said – "If you don't know Jewelry, know the Jeweler", and he's right!
Usually, Jewelers with a long history are valued amongst consumers. Even buyers who do not understand the nitty-gritty about Jewelry want to make sure jewelry they buy when they buy is authentic. Thus, they want to know the Jeweler's background.
Emerging Jewelers are gaining significant customer outreach as most customers use Online Search Engines.
On this, we asked – Who are the Industry Leaders and who are the Emerging Jewelers? What set them apart? Are Emerging Jewelers gaining momentum and market share? Jewelry products are luxury items and usually expensive compared to products in other categories. So, how price competitive are these Jewelry retailers?
To understand this, we at GrowByData collected data on the top Jewelry retailers and their jewelry products in Google Shopping and analyzed the results.
CLASSIFICATION

We analyzed top Jewelry Retailers and grouped them into 2 cohorts – Emerging Jewelers and Industry Leaders. We clustered them based on years of operation, which is an important factor in the Jewelry Industry.
Emerging Jewelers – Founded in Late 20th Century (After 1975 AD)
Industry Leaders – Founded in 19th Century (in the 1800s)
HERE IS WHAT WE FOUND
#1 – Emerging Jewelers sell more products online –
81.4% of jewelry is sold by Emerging Retailers
18.6% of jewelry is sold by Industry Leaders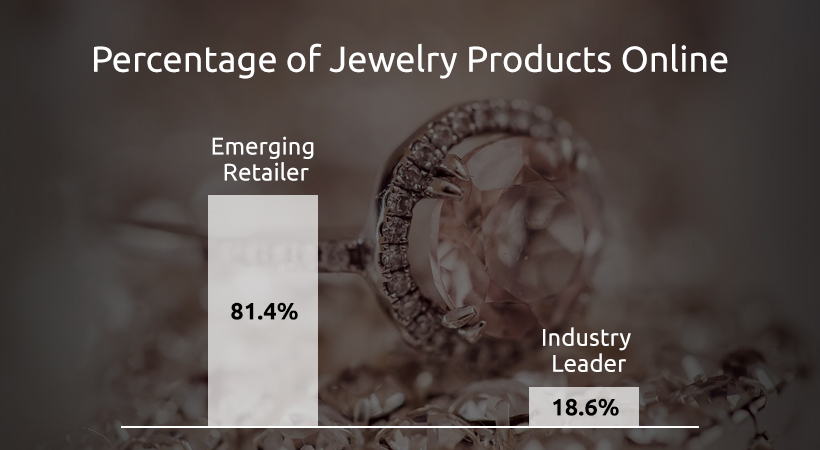 #2 Emerging Jewelers Price Dynamically –
98.6% of Price Changes were made by Emerging Jewelers
1.4% of Price Changes were made by Industry Leaders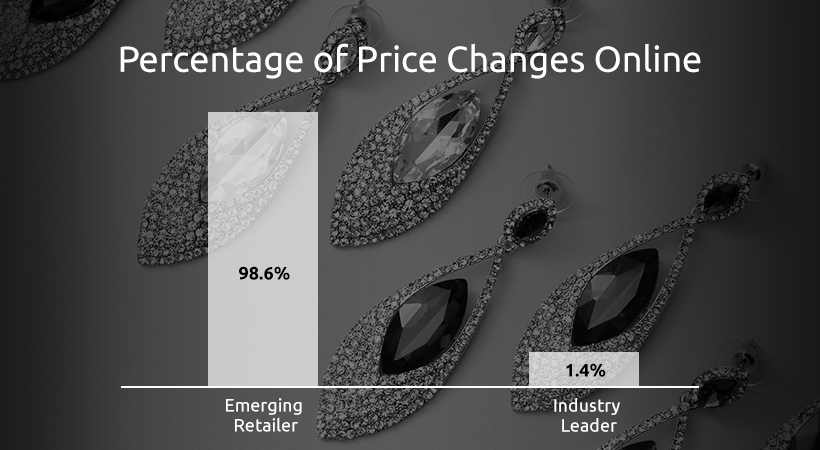 One of our main findings is that Emerging Jewelers, although established nearly a century after Industry Leaders, are gaining wide popularity and winning market share in the Global Jewelry Industry. Using technology, they are competing against popular giants and Industry Leaders.
How is this possible?
More Products Online = Greater Brand Visibility. As a result, Emerging Jewelers are gaining significant customer outreach as most customers use Online Search Engines (more specifically Google) for their shopping inspiration, research and route to market in today's context. Further, Emerging Jewelers are leveraging Price Competitiveness and using it to create a Blue Ocean Strategy to compete against the Industry Leaders.
Discounts, promotions, and offers attract customers. High Price Volatility amongst Emerging Jewelers reveals that they are dynamically adjusting prices to drive their Marketing.
In summary, our data reveal that Emerging Jewelers are becoming a "Threat" to Industry Leaders. A time may come when the Small Fish becomes so Big that the Big ones appear small.
For more details about our Jewelry Industry analytics and pricing trends in other industries, please contact us here.