The temperature is rapidly dropping and so are winter shoe prices. During the holiday season, discounts offered by retailers hungry to dominate the market are commonplace. At GrowByData, we wanted to better understand the market trends, price volatility and brand impact influencing the winter shoe category, a key segment in the Apparel and Accessories industry.
As a retailer, you must keep track of the discount levels that your competitors are offering and match it – or better yet top it.
Using the Google Keyword Planner Tool, we collected highly competitive, broad-match-type keywords for the seed keyword "winter shoes." A total of 1,184 keywords with a combined search volume exceeding 10 million searches were collected using the tool. These keywords were searched in Google Shopping and the resulting products, sellers, brands, and price changes were pulled from the SERP results and tracked daily during the collection period. We explain our findings and insights in the article below.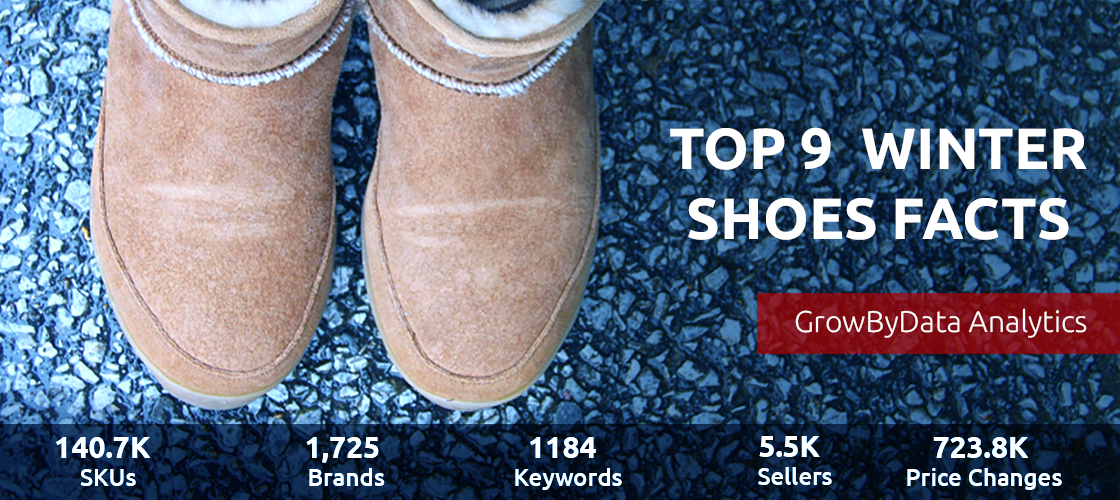 #1 RATIO 1:5
During the data-collection period, a staggering 723,857 price changes were found across 12,925 unique product SKUs. In simpler terms, for every unique pair of winter shoes, on average, 5 sellers made price changes daily across our tracked online platforms.
Our suggestion is this: don't buy right away. Do some price research, check multiple online stores, and you might get the same pair of shoes at a lower price – or confirm that the current price is the lowest available. Consequently, if you are a retailer, you must be looking into making frequent price changes on a daily basis.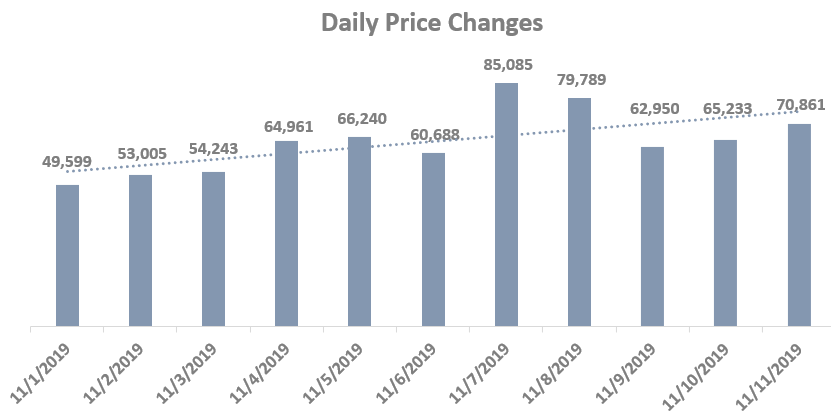 #2 DISCOUNT! DISCOUNT! DISCOUNT!
Almost 57% of online sellers are dropping prices and selling winter shoes at a discount. Wait and watch! There may be more sellers dropping prices. As a retailer, you must keep track of the discount levels that your competitors are offering and match it – or better yet top it.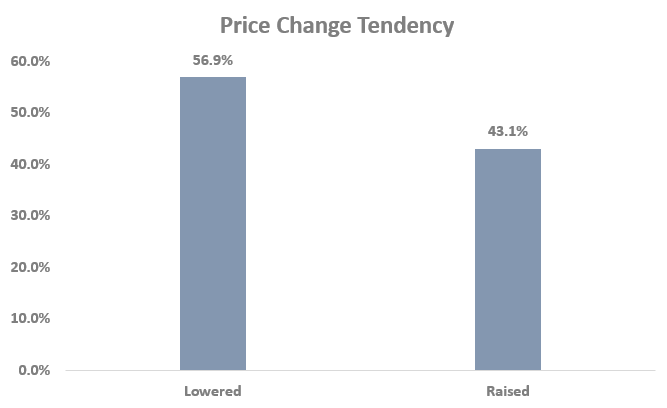 #3 LESS IS MORE
98.7% of Winter Shoes falls under Price Segment less than $500.
Digging deeper, we identified that 38.8% of tracked winter shoes were priced under $50, with 27.9% of total price changes detected in the segment. Elsewhere, the price segment between $101 & $150 recorded 28.7% (highest price changes) in 15.7% of products found in this segment; indicating this range to be the most competitive price segment in winter shoes.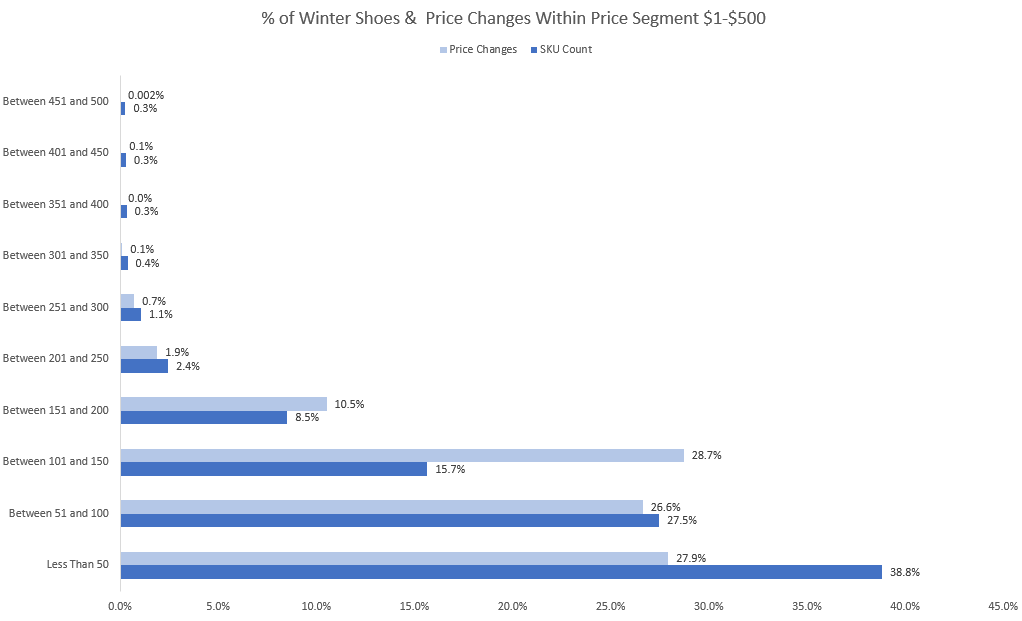 #4 ITS ABOUT THE WOMEN!
You are most likely to find winter shoes geared toward women or girls this season. Per our data analytics, the female category occupies about 40% of the product SKUs, the unisex category ranks second with 36% market presence, and the male category ranks last with 28%. Your marketing and inventory strategy must prioritize women and unisex shoe options because of their popularity.
Furthermore, our data also shows that you are likely to get a discount offer if you buy two or more pairs. Retailers must constantly check if their competitors are offering discounts on these kinds of transactions (i.e. "Buy one, get one free" or "Buy one, get 50% off one").
#5 JUST BUY IT!
Nike has the highest variety of winter shoes online. They JUST BEAT IT. If you sell winter shoes online, you can never go wrong with stocking up on Nike. It also means that when you search online for winter shoes, Nike will most definitely show up as one of the top results.
Analyzing the top 10 brands by unique product SKU offerings, Nike ranks #1 with 5,418 unique products, while the seemingly popular Adidas brand ranks #9 with 2,353 products.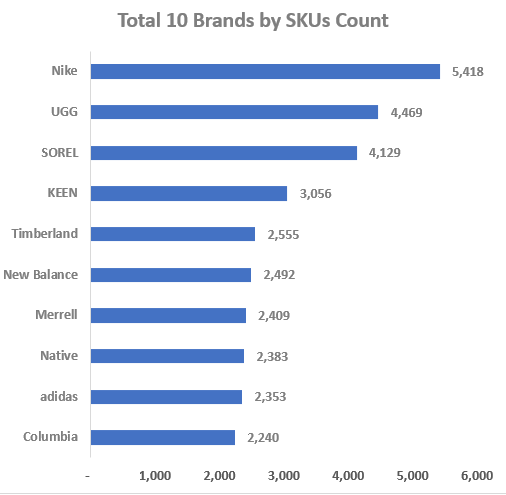 #6 WHO'S NEXT?
UGG and SOREL brands are the closest competitors of Nike in the winter shoe category. If you already have Nike in your lineup, why not focus and stock up on these brands as an alternative approach? As a buyer, if you already own shoes from Nike, offerings from New Balance or SOREL can offer an attractive alternative.
#7 UP, DOWN, UP
SOREL winter shoes are the most competitive online with the highest number of price changes per our data. The brand saw 4,129 product SKUs and 64,867 price changes recorded during the data-collection timeframe. While 5,418 Nike product SKUs were recorded, undergoing 25,875 price changes during the same period. SOREL has an aggressive pricing tendency with about 14 price changes per SKU on average, while Nike is less aggressive with only about 5 price changes per SKU.
As retailers, your dynamic pricing strategy must prioritize SOREL, Muk Luks, Timberland, and UGG brands. As buyers, your chances of finding a steal is on these very same brands.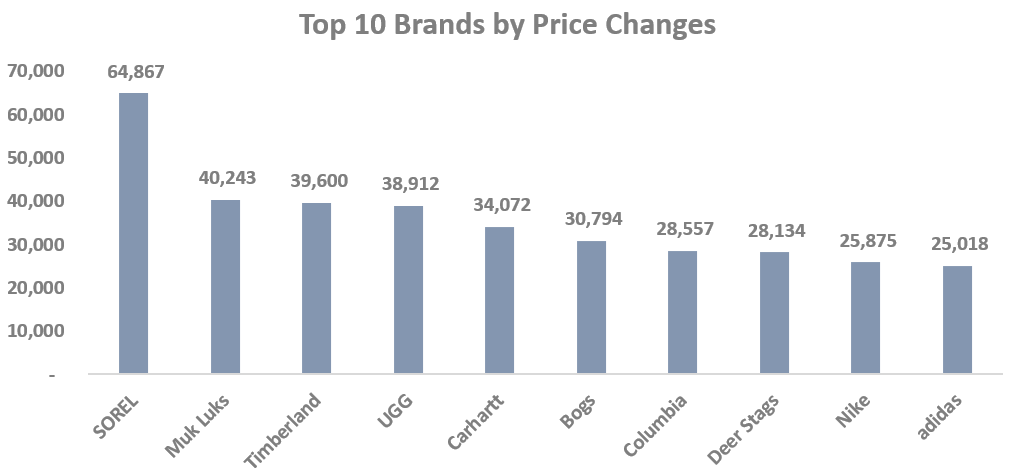 #8 WHO'S COMPETITIVE?
Per our data, Workboots.com is the most competitive seller with the greatest number of price changes. WorkBoots recorded 3,573 price changes in only 1,216 winter shoes SKUs. If you are shopping for winter shoes, be sure to visit this store for deals outside of the traditional and popular destinations like Amazon, Zappos, and Walmart. You might be lucky to find your pair of boots at the lowest price here. As retailers, it is not a bad idea to add WorkBoots to your list of competitors in your Competitive Pricing Intelligence strategy.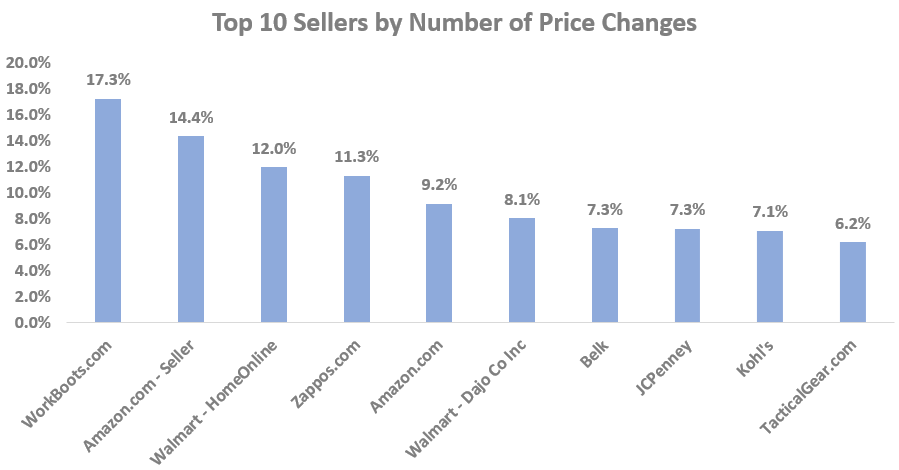 #9 WHERE's the BEST DEAL?
One word: Amazon! You will find the lowest-priced winter shoes at Zappos (Amazon subsidiary) or Amazon's own website (via third-party sellers or sold directly by Amazon). If you want to stay competitive this holiday season and sell directly on your website, you must be able to compete with Amazon or risk losing customers. If you already sell on Amazon, your prices must be competitive within Amazon's ecosphere.