The data revolution
As a business leader you don't have to understand Hadoop or NoSQL or TensorFlow or Computer Vision.

What you do need to know: this stuff is getting cheaper and more mainstream every day. It is changing the world.

Just as the revolution in computing enabled new companies — like Apple, Microsoft, Amazon, and Google — to become global powerhouses, the data revolution is creating opportunities for a new class of companies to emerge, from niche leaders to global leaders.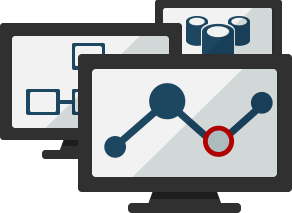 You need people who understand data.
And the resources to execute.
If you're
a start-up You need a team you can afford to build and optimize data solutions.
If you're
an ecommerce company You must compete with data leaders like Amazon and offer value distinct from competitors in your vertical or niche.
If you're
a healthcare company You must use your data to find new customers, keep patients healthy, and maintain a cash balance.
GrowByData can meet these needs - providing you the talent, processes and product.
Transform into a data-driven company
with the help of GrowByData.
GrowByData was founded by powerhouses in big data analytics and SaaS (software as a service) who have leveraged the power of global operations for decades. We help firms use data to improve margins, delight customers, and accelerate revenue growth.

Curious? Contact GrowByData to learn more.