Google Ads optimization requires continuous ad visibility, analysis, and changes. GrowByData's PLA Landscape Analytics provides data, reports, and anomalies to enable advertisers and agencies to increase Return on Ads and boosts Ads Performance.
GrowByData's Landscape Analytics gives detailed visibility from collected PLA SERP data to uncover factors that can improve Ads Rank and Quality Scores.
Ad platforms like Google offer features and guidelines for budget controlling and optimization via metrics such as Ads Rank, Ads Rank Thresholds and Quality scores by keyword/search term. The ad specialist utilizes these metrics to improve Ads Impression, Click-Through Rates (CTR), and Average Cost of Sales (ACOS).
How does Google decide on Ad Position?
Per Google "Ad Rank is a value used to determine your ad position (where ads are shown on a page relative to other ads) and whether your ads will show at all". This rank is calculated from your max bid amount and factors such as ad quality, expected CTR, the context of searches like location, device, time of the search, other ads, search results, user signals/attributes, nature of search terms, landing page experience, position, competitiveness, expected impact of ads extensions and others.
How does Google calculate the Actual Cost Per Click (CPC)?
Google calculates the actual cost per click based on Quality Score  &  Ad Rank. This implies that you can spend less on CPC to win First Rank Position.
The actual CPC Advertiser's ranking for the keywords is calculated as:
Your Price = The Ads Rank Of The Advertiser Below You/ Your Quality Score + 0.01


The metrics provided by Google are vague and lack details required by ads specialists to boost PLA campaigns.  GrowByData's landscape analytics gives detailed visibility from collected PLA SERP data to uncover factors that can improve Ads Rank and Quality Scores.  The Landscape Analytics collects firsthand PLA data to show competitors, ad content like title, advertised price, special tags used via ads extensions, reviews, ratings, and landing page URL. By keyword, it also tracks the ad's availability and position. The product tracks these attributes by keyword from different locations at different times.
This data enables Ad specialists to analyze competitors, the content of top-ranked ads, competitive prices, ad spots and find opportunity keywords for campaigns.
Analyze Competitors
Landscape Analytics reveals your competitor's assortments by keyword and landing pages by search location, time, search devices, Ad Rank and Prices. Ad specialists can understand competitor dynamics and incorporate them into their Ad optimization process.
Below we present the competitive analysis of popular keywords in the beauty category.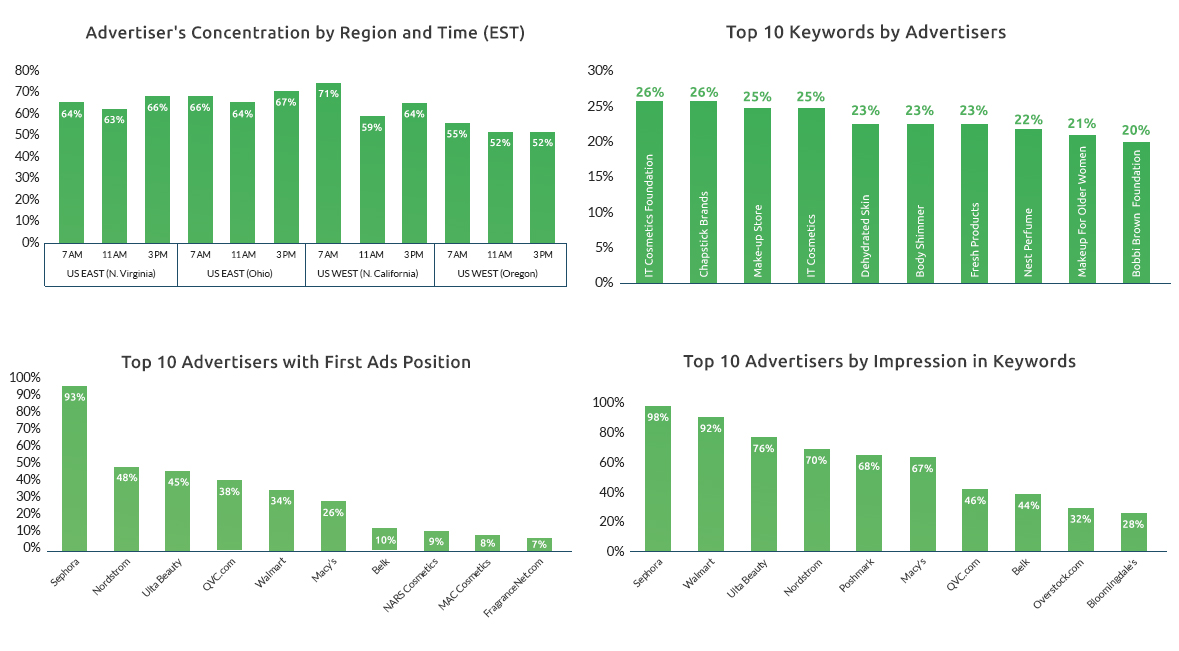 Analyze Ad Content
Landscape Analytics reveals quality ads content and format by keywords. Advertisers can analyze the top-ranked ad content, understand factors affecting ad impression and position and optimize content to improve ad quality score and rank.

Track Ad Availability and Depth
 Landscape analytics alerts on availability/unavailability of the ad, change in ad rank and ad content. The analytics also detects when multiple Ads from the same advertiser are shown for the same search term to minimize self-competition that can lead to higher bids.

Analyze Competitive Prices
Price is an important factor influencing CTR and conversions. The price of the product competing for the search term should be optimum. Besides, price outlier detection is crucial to improve CTR. The product enables triggers of anomaly alerts to enable the advertiser to manage their ads.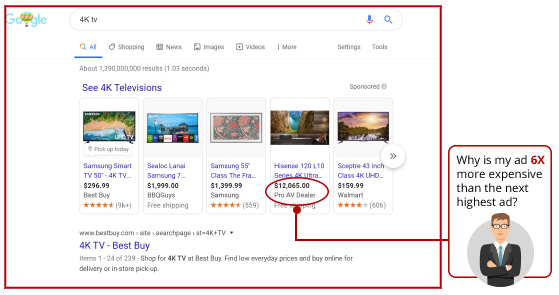 Find Opportunity Keywords
This is key to the success of ad campaigns. Landscape analytics finds you relevant opportunity keywords with high search volume but low competition.
Efficient ad campaigns largely depend on ad quality. Landscape analytics provides you with information to optimize ad content and improve impression and CTR. As ads start converting, you are further rewarded with a good relevancy score, which amplifies your optimization process exponentially.
Advertisers get unprecedented visibility with this data to maximize their Google Return on Ads. Contact us at info@growbydata.com for Landscape Analytics Data.