Are you making price changes, but not achieving desired sales?
Today, consumers are equipped with more technology and resources than ever that allow them to readily access the vast amount of pricing information out there. Before making any purchase, consumers are almost guaranteed to search for multiple similar websites that carry the products you sell. And if they find a price more competitive than yours, it's obvious that you could lose sales and loyal consumers.
Pricing Technologies helps the retailer to gain a competitive edge.
Most retailers are aware of this. And to remain competitive, they use Pricing Technologies that help them gain a competitive edge. The key strategy with this is to look at Competitors' Price first. This way, a retailer can use dynamic pricing for its product to offer a better deal to customers. Even $0.01 lower than the competitor will have a better chance of winning sales.
How often do you change your product prices?
Your price changes can happen anywhere from monthly, bi-monthly, weekly, bi-weekly or daily. If the industry you sell in is highly competitive and your competitors choose dynamic pricing, then it's quite clear that your sales will be impacted unless you are competitive enough and keeping up with these changes. And to be competitive enough, it's wise to ask: how many times do I need to change my prices?
For a real-life example, a leading retailer in Sporting Goods approached us for Price Intelligence Solutions after facing fierce competition and high price volatility in the market.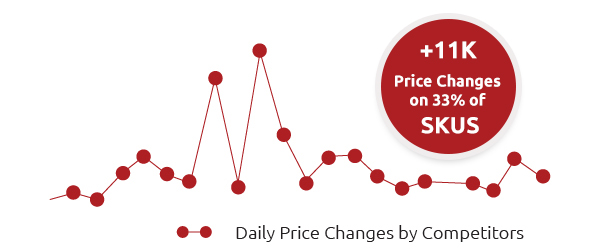 The retailer accepted our price change recommendation of once every 30 days (or monthly). Sales for the updated prices grew 36% on average within the first 10 days following each refresh. However, sales declined consistently from days 10 through days 30 before the next refresh. This proved the value of dynamic price changes in order to remain competitive.
So, if you are wondering why your sales have no growth impact even though you are making price changes, then the frequency of price change or inability to price dynamically may be the reason. Keeping prices flat when competitors are pricing dynamically is a bad strategy. To stay ahead, you need to change the price as much as required by the market — especially in a volatile market.
Remain competitive and exceed the frequency of price changes intelligently by tracking your top competitors. If your competitor changes price twice a day, then you should change thrice to stay ahead. That's the way to be on top.
However, do not ignore your Profit Margins while making price changes. You must track your costs as well as prices and not go below a floor price, even if your competitors do. This is counterproductive. If you want the same level of success our existing client is achieving, sign up here for free.