"Price Intelligence (or Competitive Price Monitoring) refers to the awareness of market-level pricing intricacies and the impact on business, typically using modern data mining techniques. It is differentiated from other pricing models by the extent and accuracy of the competitive pricing analysis." (LiCalzi, Paolo 2006) "The technique can be applied by companies seeking to optimize their pricing strategy relative to their competition, or by buyers seeking to optimize their purchasing strategies." (Aduda 2007)
Today, consumers have access to tons of information about products and their sellers. There are plenty of choices for buyers. And cut-throat competition between the retailers exists. So, it is important for any retailer to understand their competitors.
The fastest-growing marketplaces like Amazon, Walmart, eBay and Ad platforms like Google Shopping, Bing Shopping are some of the best places to discover competitors. Similarly, other competitors sell directly via their web stores. Retailers can collect information from these places to set an ideal price for their products. To compete with other retailers, it is important to consistently monitor price changes and reprice accordingly.
When inventory and product offering is low, competitive price monitoring can be done manually. However, for a large volume of products, it is almost impossible to do so on a timely basis. But the good news is that there are tools available in the market that solve this problem. Retailers must adhere to these steps to ideally price their products – Discover their Competitors and Track, Monitor and Reprice based on Competitors' Prices.
The overall process of Competitor Price Intelligence includes – Searching for competitors, Analyzing price data and Repricing its products.
GrowByData helps retailers discover competitors. Available data is collected and matched against the retailer's product catalog. This is referred to as product matching, which is done via Artificial Intelligence (AI) and Human Intelligence. Once competing products' URL is confirmed, competitors' price changes can be regularly monitored and tracked.
GrowByData's Competitor Price Intelligence product involves the following steps: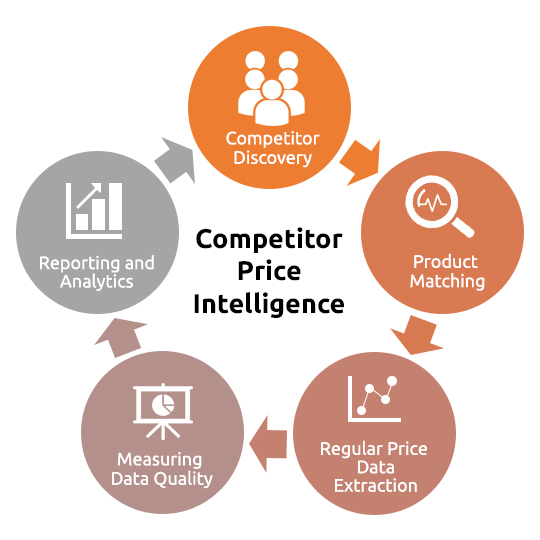 Competitor Discovery –Search and Find competitors in platforms such as Google Shopping, Amazon, etc.
Product Matching – Compare and match Search results with the product catalog. This process is done with a mix of Artificial Intelligence (AI) and Human Intelligence.
Regular Price Data Extraction – Consistently acquire price data from those matched URLs.
Measure Data Quality – Frequently Check Price data for accuracy.
Reporting and Analytics – View Different reports, key metrics, and dashboard to extract actionable insights.
References:
LiCalzi, Marco; Pellizzari, Paolo (2006). "The Allocative Effectiveness of Market Protocols Under Intelligent Trading". In Bruun, Charlotte (ed.). Advances in Artificial Economics. Lecture Notes in Economics and Mathematical Systems. 584. Berlin: Springer.
Aduda, G.T. (2007). Sohail, M. (ed.). Budget monitoring and Price Intelligence Unit (due process): A mechanism for combating corruption in infrastructure delivery in Nigeria. Case study (PDF). Partnering to Combat Corruption. Leicester: Water, Engineering and Development Center, Loughborough University.