Competitive Price Intelligence for Ecommerce is data to discover competitors online, monitor their retail prices and implement dynamic pricing strategies to reprice your product to win sales. This intelligence data is crucial for Ecommerce retailers, brands and manufacturers to be competitive in current online retail space.
Today, consumers have access to tons of information about products and their sellers. There are plenty of choices for buyers. And cut-throat competition exists between the retailers. So, with competitive price intelligence data, software & solutions it is important for any eCommerce retailers, brands and manufacturers to monitor their competitor's retail prices, analyze their pricing strategies to reprice their product regularly.
It is important for any retailer to analyze competitors and their pricing strategies.
The fastest-growing marketplaces like Amazon, Walmart, eBay and Ad platforms like Google Shopping, Bing Shopping are some of the best places to discover competitors. Similarly, competitors also sell directly via their web stores. Retailers, Brand and Manufacturers can collect information from these places to set competitive retail price of their exact products. To compete with competitors, it is important to consistently monitor price fluctuations and implement pricing strategies accordingly. Furthermore, Ecommerce companies should also monitor Minimum Advertise Price(MAP) violation by the retailers, get alerts and then report to enforce MAP.
When inventory and product offering is low, competitors price monitoring can be done manually. However, for huge product catalogs, it is almost impossible to do so on a timely basis. So, powerful Competitive price intelligence data tools is inevitable to handle this complex problem. These software helps discover your product competitors matched to product variant level accurately. This process is known as product matching, which is done via Artificial Intelligence (AI) and Human Intelligence combined, to ensure data accuracy at scale. Once competing products' URL is confirmed, competitors' price changes are then regularly monitored to implement competitive pricing strategies. However, the key to such intelligence tool is to have accurate retail price data. Therefore, these data solutions should have rigorous process to ensure accurate price data matched to product variant level.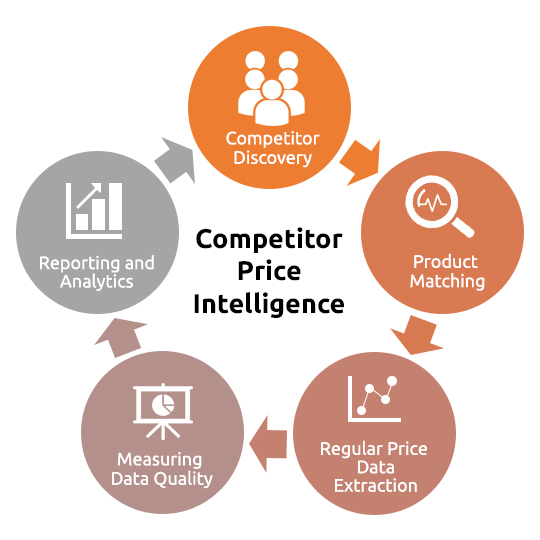 GrowByData's solution utilizes 5 steps to deliver accurate retail price data:
Discover Competitors –Search and Find competitors in platforms such as Google Shopping, Amazon, etc.
Match Products – Compare and match Search results with the product catalog. This process is done with a mix of Artificial Intelligence (AI) and Human Intelligence.
Extract Price Data – Consistently acquire price data from those matched URLs.
Measure Data Quality – Frequently Check Price data for accuracy.
Report and Analyse – View pricing reports, key metrics, and dashboards to extract actionable insights.